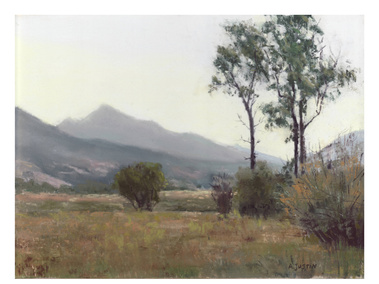 A move to Montana in 2005 inspired me to translate my life-long interest in craft and design to a passion for painting.
My background is in photography and theatrical costume making. I have always taken and printed photographs and that developed my eye for picking compositions out of the complex world around us. My years spent in the world of costuming gave me drawing skills and an understanding of color.

I have had the opportunity to travel and visit museums all around the world and have a deep appreciation and knowledge of art history. I have many influences; 19th century Russian artists, Gerome's Orientalist work, Lee Teter and Howard Terpning, and many contemporary artists whose work I see in Jackson Hole and Bozeman art galleries. I appreciate fine portraits from throughout the centuries.
Now a fine art pastelist, I paint our beautiful landscapes "en plein air", searching out intimate scenes with interesting features, capturing the vibrant colors and light that are present here. I also paint when I travel, enjoying the diverse beauty, and the chance to look and appreciate a scene for an extended period of time. I love painting out of doors as it is a challenge to nail the fleeting light, the depth of space, and the subtle colors. And the West is filled with beauty! Living only a few hours from Yellowstone National Park has provided me with a locus for my landscapes.
Working in the studio has allowed me to do larger works and work on different subject matter. I have done regular portrait work with models and this has influenced my studio portraits. Recently I have been exploring the Native American world through their powwow celebrations. I love the brilliant outfits and the dances and enjoy learning the construction and details as I study them to recreate them in pastel. With the advent of Covid, I focused on portraits of family members and friends.
I spent July of the summer of 2022 in Florence, Italy, studying at the Charles H. Cecil studio. I wanted to learn more about making portraits from models rather than photographs. We used the "sight size" technique to achieve accurate likenesses of both live models and casts of sculptured heads. My eye was better trained in the observation of minute details.
"Your pastels are light in the best sense of the word. They speak of your enjoyment of people and, even more importantly, of being aware of them as individuals. The colors speak of the same lightness. And that is how I remember you as a student. You were aware and full of zest for life. " by Michael Simon, Photography professor, Beloit College

Gallery Representation:
Cawdry Gallery, Whitefish, Montana
Wrangler Gallery, Great Falls, Montana
Zullo Gallery, Bozeman, Montana
Awards:

"Out of the Garden" was published in the 2022 Modportrait journal.
"The Conservator" received the Portrait Award in the Internal Society of Realism, Fall competition, October 2021
"Dakare" received the Fourth place in the Pastel 100 portrait section for the Pastel Journal in October 2021
"Crow Fair Rider" was selected to receive the Founder's Award (2D) for Excellence in Classical Equine Art from the American Academy of Equine Art, March 2020

"Spring Love", honorable mention in China Pastel Society exhibition 2020
Signature Member of Pastel Society of America 2019
Exhibitions:
"Canary Springs, Yellowstone" in Bozeman Art Museum show "Celebrating 150 years in Yellowstone"
Solo show, Bliss Gallery, Hamilton, Montana, April 2022
Best of the West, Great Falls, Montana, March 2022
Great Western Show, Great Falls, Montana, August 2021
Montana Professional Art Association Fall show, Missoula, 2021
"The Conservator" selected for International's Guild of Realism Fall online exhibition, September, 2021
"Dazzle of Zebras" selected for Pastel Society of America member Showcase of Wildlife Art, March, 2021
"Dakare", selected for International Guild of Realism Spring Online exhibition, 2021

"The Note" selected for the International Guild of Realism art show at Principle Gallery, Charleston, South Carolina, September, 2020
"Dreaming of the Past", selected for International Guild of Realism Art Spring online exhibition, 2020
"Independence" selected for Pastel Society of Hawaii annual show, Nov.2019
"Boiling River, Yellowstone" selected for 100th Anniversary of Pastels in China, exhibition Oct. 2019
Artist-in-Residence at Yellowstone Art and Photography Center, Yellowstone National Park, Sept 2019
"Yellowstone Jewels" July 2019 Solo show at Sola Cafe, Bozeman
Chinese Second International Pastel Biennale 2018
"Powwow Celebration" May 2018 Solo show at Sola Cafe, Bozeman
Heart of the West August 2017/2016, Bozeman
"Painting India" May 2017 Solo show at Sola Cafe, Bozeman
"Living in Zaoiuat Ahansal" May 2015 Solo show at Sola Cafe, Bozeman
Pastel Society of Hawaii 2015-2017
The International Association of Pastel Artists 2015.
Press:
2020 China Pastel Network article

2019 Fall/Winter WHJ Bozeman Big Sky https://www.westernhomejournal.com/bozeman-big-sky/shop-talk-20/

2014 Choosing Colors to Use in Antartica Outdoor Painter

Happy are the painters, for they shall not be lonely. Light and colour, peace and hope, will keep them company to the end of the day.
— Winston Churchill.
Powwow Celebration Paintings
My first encounter with a powwow occurred soon after our move to Montana in 2005. I was working with the high school foreign exchange students and my challenge was to show them the diversity in our state. I had taken them to the Hutterite communiity and the next adventure was to the MSU powwow.
I was totally surprised and impressed by the colorful and complicated regalia that the dancers were wearing. I had no idea that the beadwork I had admired in museums was still being created. The work with feathers, leather, animal fur and hair - Amazing! Having spent years making costumes for the theatre in New York City, I understood the dedicated hours that it takes to make a feather bustle or a porcupine hair headdress, to bead a crown, an armband or a vest. I asked one woman how long she had worked on her outfit and she responded, "Twelve years!!"
Preparing for the competitions, I watched families interact, mothers braiding hair, fathers helping children get into their many piece outfits, children and siblings laughing and playing together. This is a joyful, fun-filled ceremony and competition that honors the traditions and strengthens the bonds.
I have now been to many powwows in Montana and my favorites are the ones that take place outside in nature. I have taken hundred of photos and painted this material for a few years. I have become acquainted with my subjects. I have donated a percentage of sales to the MSU Powwow Council. I have paid dancers for being the subject. I plan on giving 10% of my future sales to the American Indian College Fund.
Yellowstone
Living in Bozeman, with Yellowstone just a couple of hours away, I have traveled there many times. One of the most memorable experiences was a plein air painting trip called "Dusty Boots and Splattered Paint," led by the Livingston artist, Aaron Schuerr. We hiked up the Slough Creek trail and painted and camped for a week. We were deep in nature, surrounded by beauty and greenery, under the big, blue sky.
I also took courses based out of the Lamar Ranger Station – Photography trips, painting, and hiking. I take many friends and visitors to the park every year, exploring new areas and enjoying the park's diversity and grandeur.
Yet even after all those trips, it still hold surprises and discoveries. I turn a corner and am totally awed by the vista. I had been to Norris Geyser Basin many times, but never took the path down to the Porcelain basin. It merits its name! Beautiful pastel colors, sky reflections, and a steady burble of sound from the miriad small geysers bubbling to the surface.
I've had adventures plein air painting there – spending hours painting the foreground of a geyser scene – but then, when it erupted, the whole area was covered with water! Or going out early in the morning to paint and finding everything covered with steam! Yellowstone lake and the West Thumb geyser basin are full in the spring and then the water is two feet lower in the fall. Certain features emerge from the water and former ponds are now just mud. The wind can unexpectedly shift and suddenly the steam and water from the geyser is right in your face. There are also changes each season and from year to year. Its an amazingly dynamic landscape! What was green last year is now orange – or what was wet, is now dry –
I was fortunate to be the guest artist at Old Faithful through Yellowstone Forever for a week in September of 2019. I made some large paintings to show my work. But everyone coming to Yellowstone needed to be able to pack their purchases in ther suitcases! I sold a lot of small paintings…. The best part was that I was able to go out every evening and early morning to explore the nearby features. It was extraordinary!